Paraburkholderia caryophylli(PSDMCA)
Photos
All photos included on this page can only be used for educational purposes.
For publication in journals, books or magazines, permission should be obtained from the original photographers with a copy to EPPO.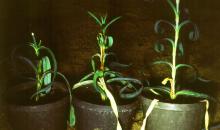 Symptoms of Burkholderia caryophylli on carnation after artificial inoculation.
Courtesy:
Dr J. Németh, Plant Protection and Soil Conservation Service, Pécs (HU).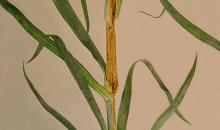 Stem cracking in Dianthus caryophyllus, note brownish yellow bacterial slime.
Courtesy:
E. Hellmers, Royal Veterinary & Agricultural University (DK).