Clavibacter michiganensis subsp. sepedonicus(CORBSE)
Photos
All photos included on this page can only be used for educational purposes.
For publication in journals, books or magazines, permission should be obtained from the original photographers with a copy to EPPO.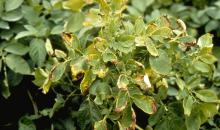 Symptoms on a potato plant: advanced stage of infection showing wilt, rolling of leaf margins, mottling and necrotic tissue.
Courtesy:
J.D. Janse - Plant Protection Service, Wageningen (NL).