Xanthomonas arboricola pv. corylina(XANTCY)
Photos
All photos included on this page can only be used for educational purposes.
For publication in journals, books or magazines, permission should be obtained from the original photographers with a copy to EPPO.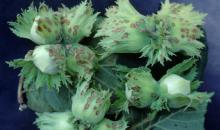 Typical spots induced by Xanthomonas arboricola pv. corylina on the husk of hazelnuts.
Courtesy:
M. Scortichini, Istituto Sperimentale per la Frutticoltura, Roma (IT).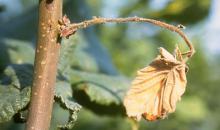 On a layered hazel shoot in the process of rooting, dieback after necrosis of a new lateral shoot.
Courtesy:
L. Gardan, INRA, Angers (FR).