Photos
All photos included on this page can only be used for educational purposes.
For publication in journals, books or magazines, permission should be obtained from the original photographers with a copy to EPPO.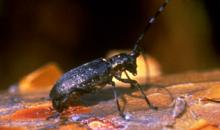 Adult Monochamus sutor, a potential vector of B. xylophilus in the EPPO region.
Courtesy:
J. Tomminen, University of Helsinki (FI).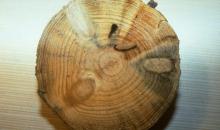 Cross section of log of Pinus sylvestris with Monochamus larva.
Courtesy:
D.G. McNamara - Plant Protection Institute, As (NO).