Lopholeucaspis japonica(LOPLJA)
Photos
All photos included on this page can only be used for educational purposes.
For publication in journals, books or magazines, permission should be obtained from the original photographers with a copy to EPPO.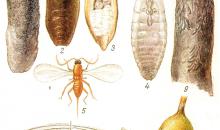 1) female shield, 2) female puparium, 3) oviposition in puparium, 4) ventral view of female, 5) male, 6) larva I, 7) female pygidium, 8) scale colony on pear, 9) scale colony on pear branch.
Courtesy:
Ministry of Agriculture, Moscow (RU).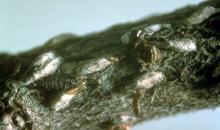 Lopholeucaspis japonica on Zelkova stem.
Courtesy:
Central Science Laboratory, York (GB) - British Crown.