Habrosyne pyritoides(HABODE)
Photos
All photos included on this page can only be used for educational purposes.
For publication in journals, books or magazines, permission should be obtained from the original photographers with a copy to EPPO.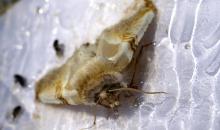 Front view of imago caught on BISEX feeding attractant trap during pest survey in LIFE13 ENV/HR/000580 project.
Courtesy:
Tomislav Jemrić, University of Zagreb, Faculty of Agriculture, Department of Pomology, Zagreb, Croatia