Photos
All photos included on this page can only be used for educational purposes.
For publication in journals, books or magazines, permission should be obtained from the original photographers with a copy to EPPO.
Distortion of lime leaves by Diaphorina citri with nymphs and young adults as well as honeydew.
Courtesy:
INRA, Bordeaux (FR).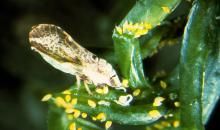 Eggs and adults of Diaphorina citri (vector of citrus huanglongbing).
Courtesy:
J.M. Bové INRA, Bordeaux (FR).