Cronartium comandrae(CRONCO)
Photos
All photos included on this page can only be used for educational purposes.
For publication in journals, books or magazines, permission should be obtained from the original photographers with a copy to EPPO.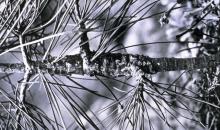 Typical spindle-shaped canker on the mains stem of a Pinus ponderosa seedling; the cracking and pitting of the bark on the swollen areas is caused by erupting aecia.
Courtesy:
W.G. Ziller (CA).