Coconut cadang-cadang viroid(CCCVD0)
Photos
All photos included on this page can only be used for educational purposes.
For publication in journals, books or magazines, permission should be obtained from the original photographers with a copy to EPPO.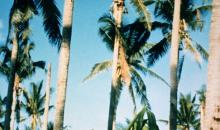 Area with cadang-cadang disease showing trees in the early, medium and late stages of the disease. Herbaceous monocotyledonous plants (Alpinia sp.) in foreground growing in association with infected palms.
Courtesy:
M. Holderness - Waite Agricultural Research Institute, Adelaide (AU).