New EPPO poster and leaflet 'Don't Risk It'
EPPO recently published a poster 'Don't Risk It' together with an accompanying leaflet. This poster was endorsed officially by the EPPO Executive Committee in April 2013 and circulated to the NPPOs of all EPPO member countries in May 2013.
The objective of these documents is to raise public awareness about the risks of moving plants and their associated pests during international travel and to encourage responsible behaviour. It is primarily intended that the poster should be displayed in airports or any other sites where international travellers will see it (e.g. seaports, railway stations, travel agencies, embassies).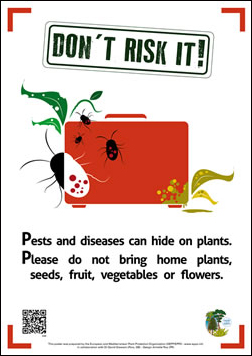 PDF files of the poster and leaflet can be downloaded from the EPPO website.
http://www.eppo.int/PUBLICATIONS/poster/poster&leaflet.htm
Sources
EPPO Secretariat (2013-05).